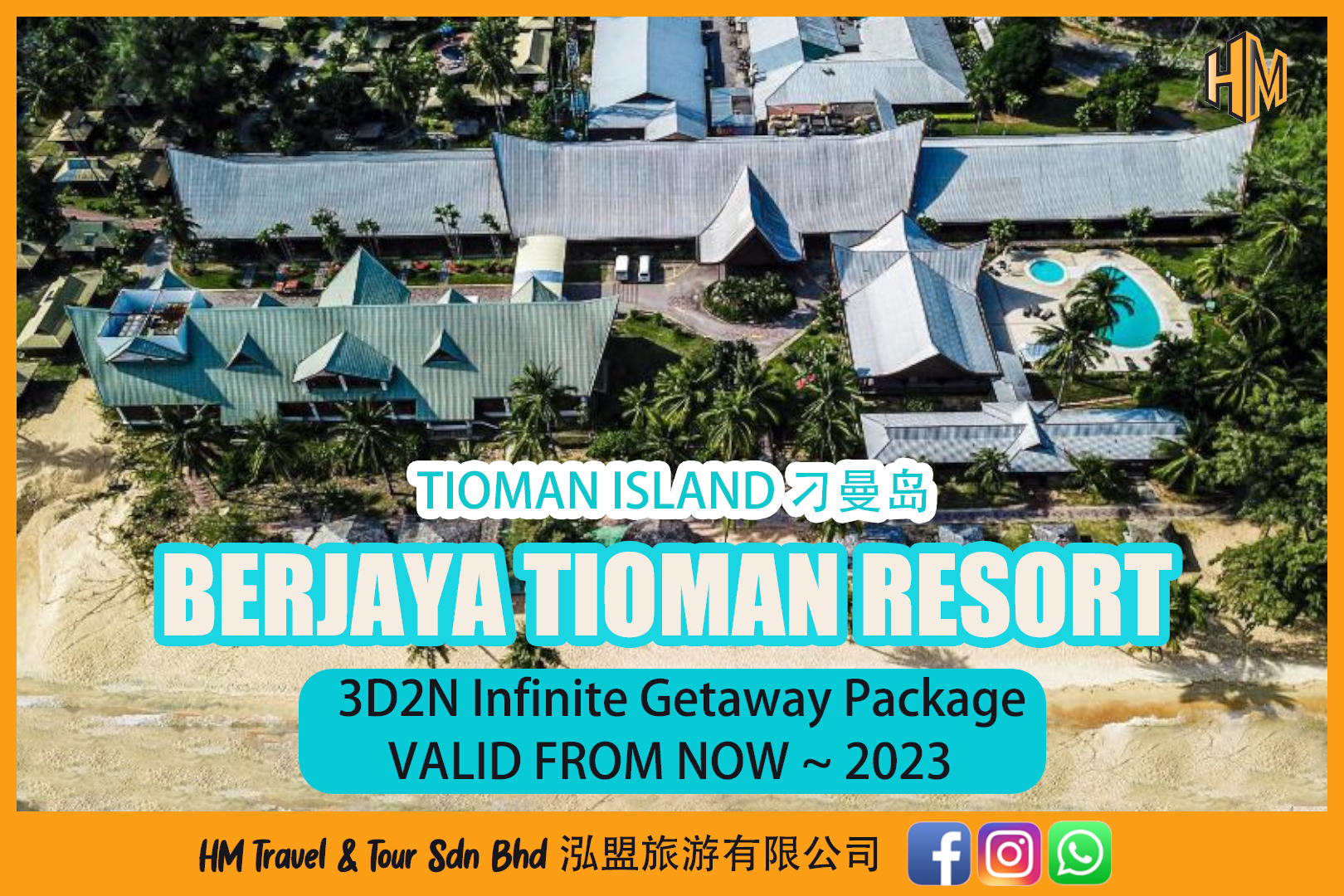 BERJAYA TIOMAN RESORT-3D2N Infinite Getaway Package- NOW~DEC 2023
🇲🇾🏖️TIOMAN ISLAND 刁曼岛
🏕️BERJAYA TIOMAN RESORT
✅VALID FROM NOW~DEC 2023
3D2N Infinite Getaway Package Price include
*Unlimited Meal (Breakfast/Lunch/Afternoon Tea/Dinner & Alacarte Meal outside than buffet time from 6.30am till 10.30pm)
*Unlimited Beverage(Non Alcholic & Acholic Drinks from 10am to 10pm *Free Kayaking for an hour for up to 2 person per package
*Free an hour bicycle ride for up to 2 persons per package
🤩Berjaya Tioman Resort is the largest resort in Pulau Tioman, sprawled over 200 acres across the tropical rainforest with spacious beachfront surroundings at the western edge of Tekek Village. A classic traditional concept of four-star resort, there are large facilities and amenities provided, including function halls, dive center, spa, 18-hole golf course, outdoor team building circuit, swimming pools and various restaurants.
Accommodation consists of quaint chalets and duplex structures inspired by traditional village architecture, perched on stilts along the beachfront or garden. A perfect abode for a complete family vacation or honeymoon
With every trip to this tropical hideaway, the natural beauty of the island paradise beckons you to come closer, and the idyllic ambience at Berjaya Tioman Resort magically sets the mood for a relaxing utopia and draws you into its divine embrace. Tempting you with waters just as beautiful beneath the surface as they are above, dive into the deep blue and uncover amazing underwater stories. When you are surrounded by the gifts of nature, the possibilities are endless.
🤩Berjaya Tioman度假村是Pulau Tioman最大的度假村,占地超过200英亩,横跨热带雨林,在Tekek村的西部边缘拥有宽敞的海滨环境。一个经典的传统概念四星级度假村,提供大型设施和设施,包括功能大厅,潜水中心,水疗中心,18洞高尔夫球场,户外团队建设线路,游泳池和各种餐厅。
住宿包括古雅的小屋和受传统乡村建筑启发的复式建筑,坐落在海滨或花园的高跷上。一个完美的住所,一个完整的家庭度假和度蜜月圣地。
随着每一次旅行到这个热带世外桃源,岛屿天堂的自然美景在召唤着你走近,在Berjaya Tioman度假村的田园诗般的氛围神奇地设置了一个放松的乌托邦的心情,吸引你进入它神圣的拥抱。诱惑你的水就像美丽的水下和他们在上面,潜入深蓝色,揭开惊人的水下故事。当你被大自然的馈赠包围时,你会发现无限的可能。
PM for more information💰
赶快PM询问更多详情