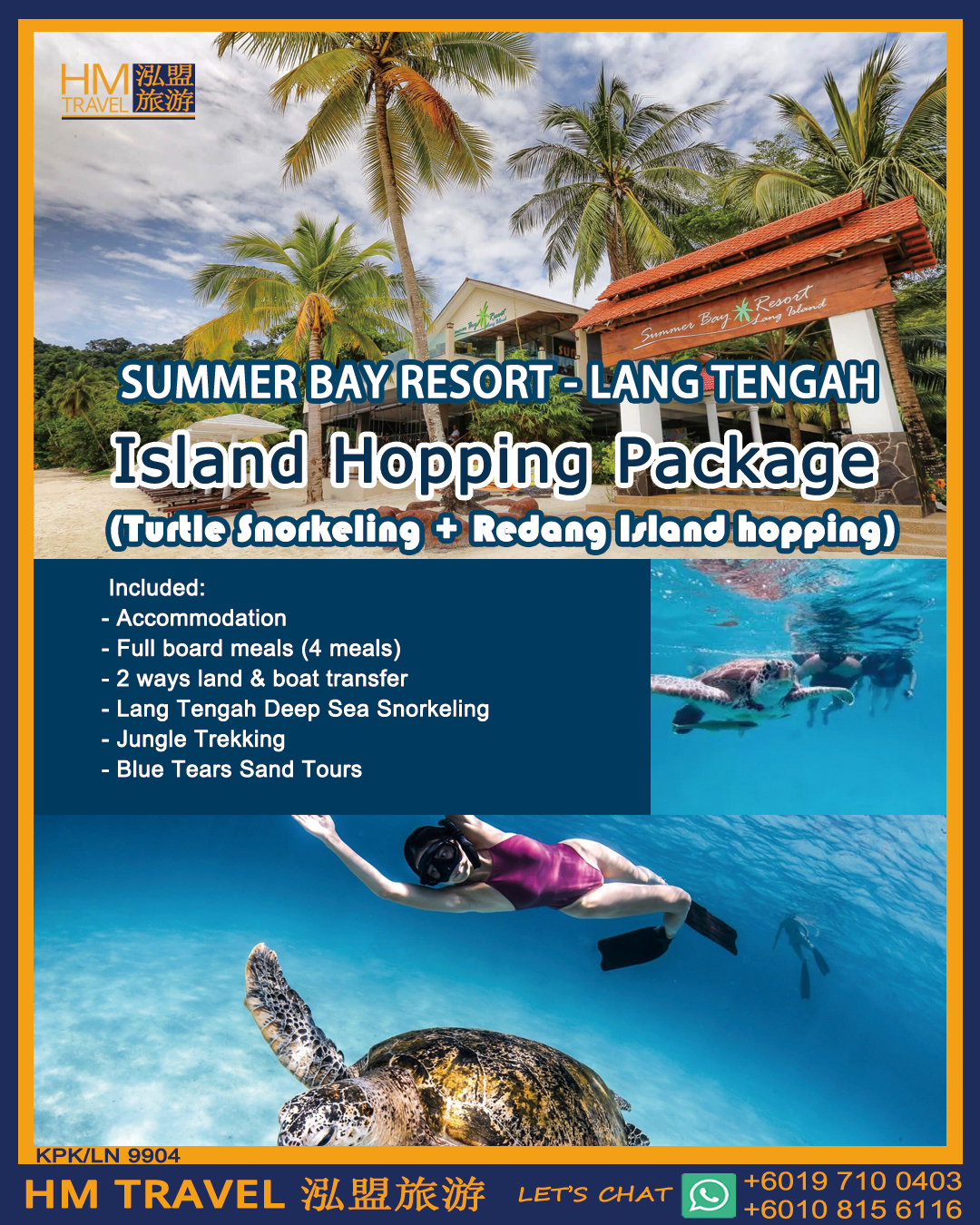 📍 SUMMER BAY RESORT – LANG TENGAH ISLAND 🏝️
寻找绝佳的岛屿度假胜地?不用再找了!加入我们在朗滕嘎岛的夏日湾度假村,天堂就在这里等着你。
Island Hopping Package
体验浪中岛的最佳选择,尽享我们全包式岛屿环游套餐。准备好迎接一场前所未有的冒险之旅吧!
套餐包括:
舒适的住宿
全日制膳食
便捷的往返陆地和船只交通
朗滕嘎深海浮潜
刺激的丛林徒步旅行
迷人的蓝色泪珠沙滩之旅
难以忘怀的岛屿环游(海龟浮潜 + 热浪岛环游)
海龟浮潜:潜入晶莹剔透的海水,目睹宏伟的海龟在它们的天然栖息地中自在畅游。
浪中岛以其充满活力的海洋生物和壮丽的珊瑚礁而闻名,为您提供了非凡的浮潜体验。沉浸在海底世界的奇观中,创造一生难忘的回忆。
不要错过在岛屿环游中其令人惊叹之美的机会。发现隐藏的小海湾、原始的沙滩等等!
逃离喧嚣,来到Summer Bay度假村,展开一场充满冒险的假期,让自然奇观令您重新充满活力。立即预订您的岛屿环游套餐!
欲了解更多信息并进行预订,请致电 [电话号码] 或访问我们的网站 [网址]。名额有限,请尽快行动!
SUMMER BAY RESORT – LANG TENGAH ISLAND
Looking for the perfect island getaway? Look no further! Join us at Summer Bay Resort on Lang Tengah Island, where paradise awaits.
Island Hopping Package
Experience the best of Lang Tengah with our all-inclusive Island Hopping Package. Get ready for an adventure-filled vacation like no other!
Package includes:
Comfortable accommodation
Full board meals (4 meals)
Convenient 2-way land and boat transfers
Lang Tengah Deep Sea Snorkeling
Thrilling Jungle Trekking
Mesmerizing Blue Tears Sand Tours
Unforgettable Island Hopping (Turtle Snorkeling + Redang Island hopping)
Turtle Snorkeling: Dive into the crystal-clear waters and witness the majestic sea turtles in their natural habitat.
Lang Tengah Island, known for its vibrant marine life and stunning coral reefs, offers an extraordinary snorkeling experience. Immerse yourself in the wonders of the underwater world and create memories that will last a lifetime.
Don't miss the chance to explore its breathtaking beauty during the island hopping excursion. Discover hidden coves, pristine beaches, and more!
Your dream vacation starts here at Summer Bay Resort!