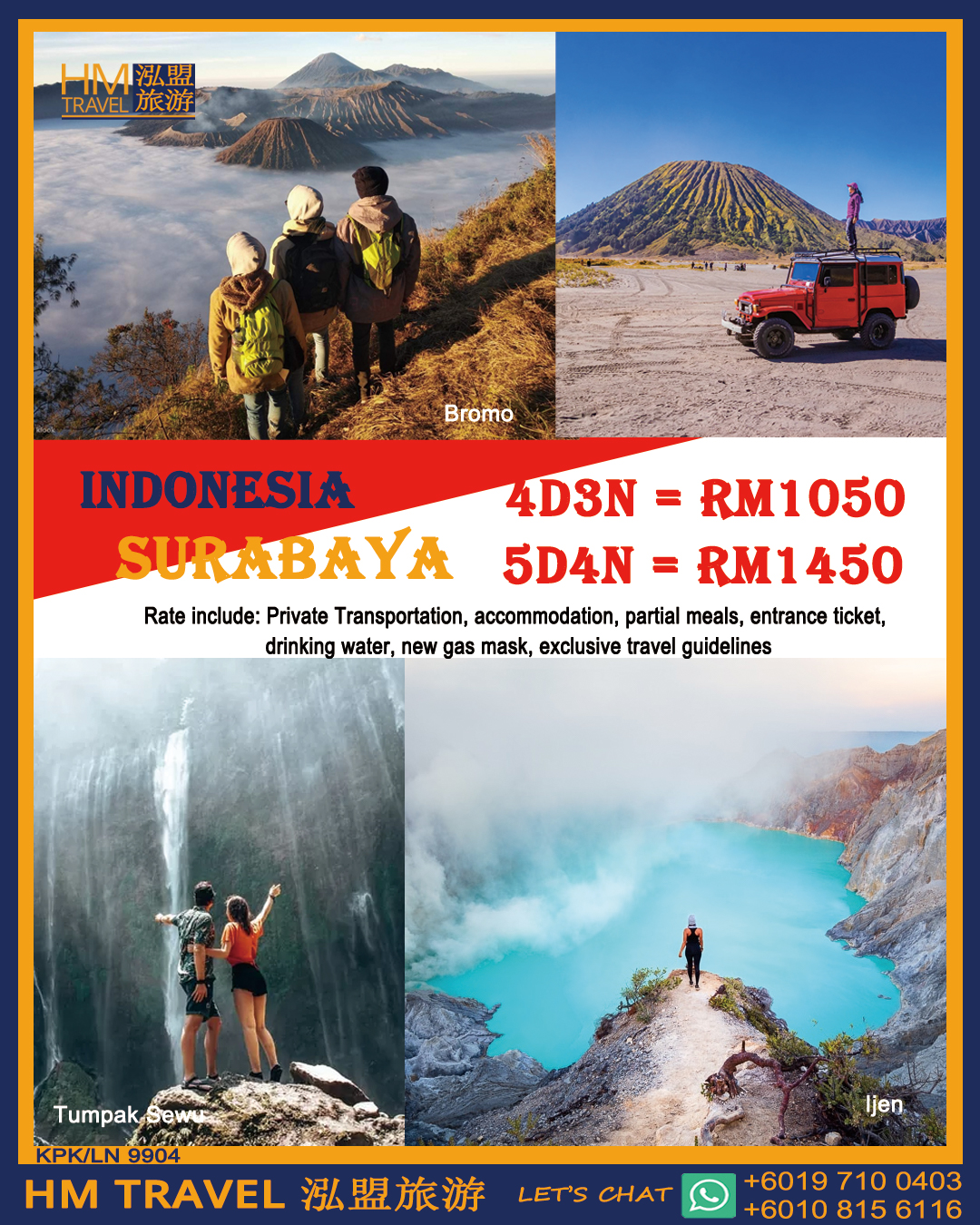 印尼泗水火山&瀑布之旅 Surabaya Volcano & Waterfall Adventure in Indonesia
印尼泗水火山&瀑布之旅
Surabaya Volcano & Waterfall Adventure in Indonesia
4天3夜 RM1050 起 4D3N starting from RM1050
5天4夜 RM1200 起 5D4N starting from RM1200
费用包含:私人交通、住宿、部分餐食、门票、饮用水、新的防毒面具、山导
Rate includes: Private transportation, accommodation, partial meals, entrance tickets, drinking water, new gas mask, local guide
行程特点 Trip Highlights:
布罗莫火山:亲临壮丽的布罗莫火山,欣赏宏伟的自然景观。
Bromo Volcano: Experience the magnificent beauty of Mount Bromo and admire its grand natural landscapes.
伊真火山:探索神秘的伊真火山,目睹湖中的蓝火和独特的火山风貌。
Ijen Volcano: Explore the mysterious Ijen Volcano and witness the blue fire and unique volcanic scenery within its crater.
土姆帕克瀑布:感受土姆帕克瀑布的壮丽景色,清澈的水流从高崖倾泻而下,令人陶醉。
Tumpak Sewu Waterfall: Indulge in the spectacular views of Tumpak Sewu Waterfall, where crystal-clear water cascades down from high cliffs, creating a mesmerizing sight.
只要行动方便者都可以去这趟旅程。无论您年轻或年长,不用担心爬山问题,因为我们将有导游全程陪同。我们已亲身体验,会为您提供所需装备的建议。
Suitable for all, as long as you have easy mobility. Whether you're young or elderly, there's no need to worry about climbing mountains because we provide a local guide throughout the entire journey. We have personally experienced the trip and will provide equipment recommendations.
快来了解我们的泗水火山&瀑布之旅,与大自然亲密接触,创造难忘的回忆!
Join us on our Surabaya Volcano & Waterfall Adventure, immerse yourself in nature, and create unforgettable memories!